GSV is ready to host a legendary grudge match between the Muay Thai legend Buakaw Banchamek against an old foe from Japan who beat him 14 years ago Yoshihiro Sato in an exhibition kickboxing match at KAT PRESENTS LEGEND OF RAJADAMNERN. Even though this is an exhibition kickboxing match, there is a score to be settled from 14 years ago that fans most certainly cannot miss! The fights will begin at 7.00 PM onwards this October 28 and will feature another ten bouts of Muay Thai and Kickboxing. The show will conclude with a concert by Lomosonic at the very heart of Thailand's capital at the iconic Rajadamnern Stadium. Tickets are now on sale at https://rajadamnern.com/. KAT PRESENTS LEGEND OF RAJADAMNERN will also be live on Workpoint 23.
Global Sport Ventures Co., Ltd. (GSV), the company behind RWS: Rajadamnern World Series, is ready to bring the action once again with a historical bout between two old rivals Buakaw Banchamek and Yoshihiro Sato, a legend of Japanese combat sports who goes by the nickname "Mugen Sniper" reputed by his punching precision and power that stops his opponents in their tracks. He is also the only fighter to ever knock out Buakaw in the Final 8 of K1 World Max 2008 at Nippon Budokan Arena in Tokyo, Japan.
Mr. Thainchai Pisitwuttinan, the CEO of GSV, said "after an extremely successful exhibition kickboxing match between Buakaw and Kota Miura, a fan favorite from Japan, we have created a trend across the country. We sold out that night to the point we had to close the ticket offices because we could not have more people inside. The feedback we got was for RWS: Rajadamnern World Series to continue to promote another monumental fight for the fans."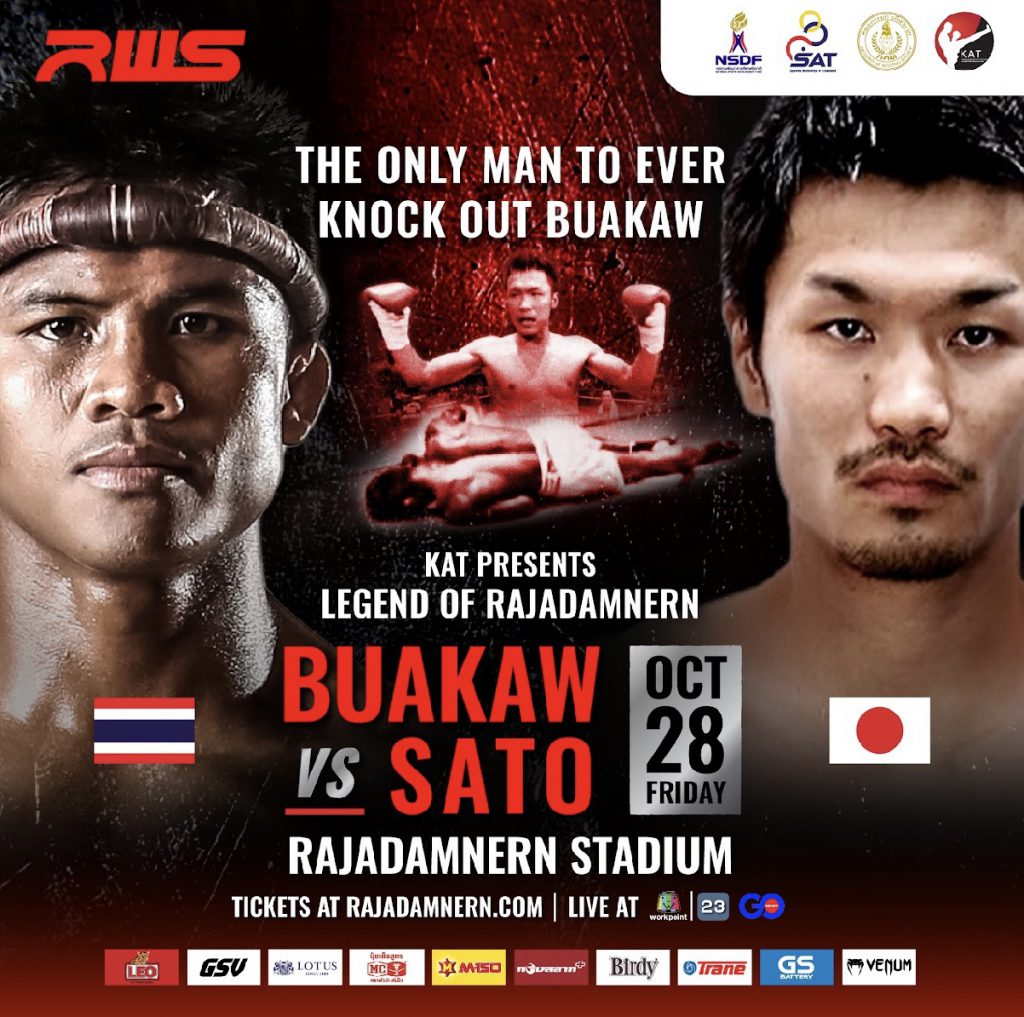 GSV's announcement of this historical grudge match between Buakaw and Sato will be Buakaw's second time fighting at KAT PRESENTS LEGEND OF RAJADAMNERN after his last fight marked his return to Rajadamnern Stadium in 18 years in order to bring Muay Thai to an international audience. GSV has reached out to Yoshihiro Sato, a former World Kickboxing Association (WKA) and World Professional Kickboxing (WPKC), and two-time K1 champion, to fight Buakaw. There is an underlying story and history to this match, as Sato is the only man to have ever knocked out Buakaw in over 300 fights Buakaw has fought in.
Although Buakaw got his chance to avenge that knockout loss in 2013 but only via a decision victory, Buakaw still remembers that knockout loss to this day. At KAT PRESENTS LEGEND OF RAJADAMNERN, an RWS special event, will be the first time the two have shared a ring in over ten years. RWS is a new Muay Thai tournament which guarantees thrilling and exciting Muay Thai fights under a sports entertainment venue at Rajadamnern Stadium.
This grudge match is a special bout brought to you by GSV in association with the Kickboxing Association of Thailand (KAT) with support from the National Sports Development Fund (NSDF) of the Sports Authority of Thailand (SAT). The NSDF hopes to support and elevate professional sports in Thailand, especially Muay Thai, to international acclaim. Furthermore, the NSDF supports all sporting events and activities with the ultimate goal being to raise the standard of Thai sports as well as allow for Thai athletes to compete and become successful on the global stage in order to bring economic prosperity to Thailand.
Fans can get their tickets to watch this grudge match between Buakaw and Sato on October 28, 2022 that you most certainly do not want to miss at https://rajadamnern.com/. Fans can also watch this fight and RWS every Friday on Workpoint 23 and Go Sport from 9:15 PM onwards.